12562 International Drive,

Orlando,

FL,

32821,

United States of America

, ‏

‎800-491-6126

‎
Hotels.com reviews
TripAdvisor reviews
We had good time staying in this hotel and it's good for familys
Genuine Expedia guest review
"Close to Disney and Universal"
Nice 2 bedroom condo, about 10-15 minutes away from both Disney and Universal Studies. We didn't go but Sea World is about 5 minutes away. Grocery store is right around the corner and lots of places to eat and shop. We had a 2 bedroom condo, it was nice, full kitchen, washer and dryer. Great place to spend a week with your family. I wondered what this hotel being a vip hotel and myself having the gold vip expedia card would get me, well, here is your answer...... 4 bottles of water and 6 chocolate covered strawberries.
Genuine Expedia guest review
Love this hotel and all the staff very nice and polite people
Genuine Hotels.com guest review
Wonderful stuff
Genuine Hotels.com guest review
Nice apartment style hotel. Swimming pool too crowded.
Genuine Expedia guest review
the nicest staff
Genuine Hotels.com guest review
We met for a family vacation. Arriving after driving 1700 miles and were so satisfied at accommodations.
Genuine Hotels.com guest review
Check in was ok, the $50 per day "fee" was not expected as I had paid in advance and it had to be on a card, not cash. Found the building ok, the tree was blocking the view of the C on the building. Just happened to see it when the wind blew, otherwise I would not have found it. Room was very nice, the cooking pans and utensils were in poor condition, pan handle was just about to fall off and the turner hand did come off when I first tried to use it. Shuttle was limited to where in Disney it would take you.
Genuine Expedia guest review
"Clean, comfortable, good location."
Great location. Our family of 8 had a nice 3 bedroom/2 bath unit. The unit in building D was well maintained, clean and comfortable. Only complaints would be overcrowded pools......they need more pools with children activities and 2nd floor guests were very noisy into the wee hours of the morning.
Genuine Hotels.com guest review
The hotel needs to upgrade from the drapes in the rooms to the appliance in the kitchen. Also the silverware etc. Housekeeping needs to complete their daily room cleaning assignments and make sure to lock the doors to the rooms.
Genuine Expedia guest review
Excellent resort!
Genuine Hotels.com guest review
"Floridays is Deteriorating"
Unfortunately, my time at visiting Floridays Resort has come to an end. Floridays was my family favorite Orlando home and due to this issues from the past 2 visits we have to move on. Both the dvd player and Jacuzzi tub were malfunctioning the on our last two visits. On our latest visit we were advised by maintenance to lift our flat screen TV away from the wall and unplug the cable cords from the dvd player, to the TV and wall every time we wanted to watch movies or watch regular cable television. Maintenance fixed the tub twice due to it not retaining water only to discover on the 3rd day that it wasn't fixed. I literally had to hold the drain down with my foot while bathing. The shower was very hard to turn off and it wouldn't stop leaking, so we could hear the dripping all night. Lastly, were the ants in both bathrooms and the roach in the kitchen *which I did post a picture*. When we contacted the front desk first they advised my husband to sweep the ants up but we had no dustpan so maintenance was sent up and they just swept the ants way, only for more to return later. The roach was a whole different issue and that was enough for us. My kids were completely freaking out due to the pest problems. We were told by the front desk that the pest issue could not be handled because we were residing in the room. There was no offer to move us to handle this situation. It was just very disappointing to pay, and not cheaply, for the service we received.
Genuine Hotels.com guest review
"Great hotel- close to parks"
Was very pleased with this hotel. Nice room and the pool was very nice.
Genuine Expedia guest review
"Nice looking. Needs some maintainance"
Few issues in room. Leaking shower in bathroom. In second bathroom toilet bowl keeps running. Elevator gets stuck multiples times. Trapping you inside with no air. Very hot. Hard to breathe. Sewer smell near second pool area
Genuine Hotels.com guest review
From the moment we got there they were friendly and got us in quickly. The family loved the unit and the pool was really fun for the kids. We had a problem with our TV when we first got there but they quickly took care of it. Really enjoyed ourselves there and plan on coming back.
Genuine Hotels.com guest review
"Poor customer service but the location is good"
Traveled overnight, no early check in. Forced to lay around lobby until room was ready at 1515. Host did nothing to accomadate us and we had small children. It was hot uncomfortable and a long wait. Very unsatisfied. Would not recommend staff was not friendly or accomadate goat all.
Genuine Expedia guest review
Stayed with my family July 2nd and Checked out July 4th. Great hotel, booked the 2 bedroom suite, pleanty of space for 5 of us. Clean and close to the attractions. Only issue was Friday night trying to find parking
Genuine Hotels.com guest review
"Close to all attractions s"
Great price amazing room. Was completely surprised by the quality of the room for the price. Expedia gave a great deal.
Genuine Expedia guest review
Very nice hotel!!!
Genuine Hotels.com guest review
"Great for large families"
Our family had the 3 bedroom suite and it was great. We cooked in the kitchen and saved money on eating out. The grounds and pool were great. Pool was open until 11:00 pm which was great after a day out. This was our second time staying there and will go there again.
Genuine Expedia guest review
"Mixed Review, Honest to a fault."
If you are planning on focusing your time on International Drive, the Theme Parks, or just a nice home away from home to get some away time, Floridays is an absolutely amazing place to do it all.
Genuine Hotels.com guest review
"Great condo near all the parks"
My wife, two daughters and I really enjoyed Floridays! Plenty of room for the whole family with the two bedroom and two bathroom condo. Great having a kitchen - used mostly for cooking breakfast and storing drinks in the fridge.
Genuine Expedia guest review
"Nice pool for kids. Old broken facilities."
Jacuzzi, washer and dryer were broken. A/C was very loud and noisy.
Genuine Expedia guest review
"Good value suites lacking in cleanliness"
This was my families first stay at this hotel and we were delighted to find a room that would accomodate our party for a moderate rate comparatively. While it was a nice room with a good view it was lacking in cleanliness. We found hair on the toilets and in the tub. There was a snickers wrapper and qtip on the floor when we arrived. I was also under the impression there was housekeeping included in the cost of the room. Therein lies the rub. You are entitled to a "refresh" which consists of new towels, trash getting taken out, and the beds getting made. For your room to get cleaned there is an additional fee. It was disappointing but still a much better deal than staying on disney property. Also the jets did not work in the tub and the second bedroom door lock did not work and became stuck trapping a member of the family inside (the hotel sent someone up promptly to remedy the issue we were very happy about their response). Overall I would recommend this hotel to people with larger parties looking for a good deal but not to those looking for a high end resort.
Genuine Expedia guest review
Great service and location.
Genuine Hotels.com guest review
The room looked much better on the computer. The decor old and not much to do at a resort. Grill restaurant was extremely expensive. Never booked through expedia will never do it again!!! Had a family emergency had to leave early was not refunded my 1 day. Extremely upset by that. You live and you learn.
Genuine Expedia guest review
It was great
Genuine Hotels.com guest review
"Huge suite! Great Pool!"
Stayed here for one night. Great facility, clean suite. Will return & stay longer to enjoy the pool!
Genuine Expedia guest review
Hotel was very nice and spacious! We needed a separate room for us and our children, who are teenagers and wanted their own space. This hotel was nice, clean and very spacious. There was plenty of room for all of us plus it had the kitchen and refrigerator which we liked.
Genuine Expedia guest review
"Disappointed.. "C" rating"
For starters, I was mislead to believe that their would be a complimentary breakfast included. I specifically asked the booking agent as this was the most important amenity on my list. When I addressed this at the front desk all I received was a half hearted apology. With a family of 5, you can imagine how costly that could be. Fortunately, we did have a full kitchen and a nearby grocery store to help cushion some of the unexpected cost. In addition, the room had a foul odor of sewage accompanied by horrible tasting water, it not only turned us off but really concerned me and my family. We purchased bottled water for drinking n stayed away most of the day to combat the odor issue. In my opinion, it was not worth mentioning to the front desk because I'm sure they were already well aware of this issue and would not have done anything about it but offer another half hearted apology. And finally, the A/C was out in the gym and the elevator in my building was down for the better part of a day. So coming back from an exhausting day just find out we have to climb 6 flights of stairs did not make matters any better for us. Thank you for your time and concern and I hope that these issues are address in the near future. Kindly, Mr. Deric Harding
Genuine Hotels.com guest review
We came just for the night and, as always, this is the only hotel we stay at in Orlando! The value is incredible and the hotel itself is just perfect for us. With two teen boys, it's nice to have such a large space: two full sized bedrooms, two full sized bathrooms, living room, dining area, full kitchen, patio----don't forget the washer and dryer! We absolutely love the location; so close to everything with out the traffic!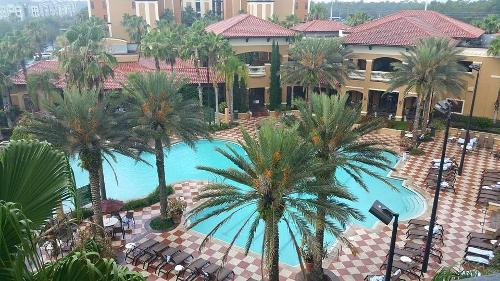 Genuine Hotels.com guest review
Hotel was great. The only issue was there were ants in our unit. Not many but they seemed to be in every room, not just located in one confined spot
Genuine Hotels.com guest review
wonderful
Genuine Hotels.com guest review
"The room was absolutely wonderful."
Great stay, wish we could have stayed another night. We will definitely stay there again!
Genuine Expedia guest review
Wonderful, will return for pleasure.
Genuine Hotels.com guest review
I am extremely picky, couldn't find anything wrong if I wanted to. We'll definitely make this our place to stay in Orlando
Genuine Hotels.com guest review
Great place to stay close to airport and Disney. Large 3 bedroom condo, nice kitchen with utensils, dishes, coffee pot, washer/dryer in room, beautiful pools and sand play, good food in cafe
Genuine Expedia guest review
hotel check in process took too long. The actual property and room were wonderful. The room was beautiful
Genuine Expedia guest review
We have stated at this place 2 times before that is why we returned. Everything was great. Beds were extremely comfortable. The only con was housekeeping. The last two days of our stay they left the towels on the kitchen stools. One of the housekeepers even said we were her last room of the day dropped the towels on the kitchen stool and walked out. Other than that we had a great time. My youngest daughter loved the competitions at the pool with the DJ playing music and giving prizes. We will return.
Genuine Expedia guest review
"Convenient condo. Lots of families."
My only complaint is not being able to get a chair at the pool in the afternoon.
Genuine Expedia guest review
"Great hotel. Will definetely go back."
Hotel very clean, comfortable room. We stayed only one night, but are planning to come again for a longer stay
Genuine Expedia guest review
This was a great resort. It has central location to everything. They picked us up and transported us around the resort. They have great shuttle drives. The rooms are very spacious and nice.
Genuine Hotels.com guest review
We chose this resort because of its proximity to Sea World and the size of room we could get for the money. We had to wait for our room to be ready, but the staff was very friendly and professional. Our room wasn't super clean- there was a shoe in the artificial tree, some candy wrappers in spots, and a spill that left an odor- all from previous guests. But overall, the room was very nice and spacious. The pool area was great with a grill to order food and drinks. Would stay there again.
Genuine Expedia guest review
"Beautiful hotel located next to all attractions"
The staff were very polite and courteous. The room was very spacious and loved the master bedroom and bathroom which had a large shower and jetted tub. They have two pools which worked out wonderful for us. We will definitely stay in this resort again!
Genuine Expedia guest review
"Nice hotel , Good location next to everything."
This is a family hotel because the gran suite was amazing, it has everything we need,3 bedrooms, 2 baths, big tv, kitchen,etc. But the most important thing was enjoy the family together all time in the same place but at the same time each family have privacy .
Genuine Expedia guest review
"Always a pleasant stay!!!!"
We have stayed here for 3 years in a row when we visit Orlando! ABSOLUTELY love this place. Everyone is friendly and very helpful. The rooms are not only beautiful but extremely comfortable. We look forward to our visit every year!!! The only negative I could see was some of the prices in the café. A small bottle of water is $2!!! There is an easy fix to that though..... you can get 2 HUGE bottles at the gas station only about a block from there for $1!!!
Genuine Hotels.com guest review
"Florida Vutual School Sr. Graduation"
Thank you for making my grandson's graduation weekend very special!
Genuine Expedia guest review
You should update the televisions throughout the rooms. The master bedroom's bed is a little stiff. Furniture is outdated and worn.
Genuine Expedia guest review
"Very nice hotel close to the Vineland Outlets"
We stayed there after spending 4 days at Disney world and resorts. Should have chosen this hotel throughout our vacation. Very nice and roomy. Friendly staff. Interesting bathrooms. Convenient shuttles
Genuine Expedia guest review
We look forward to returning to this hotel. The room was great, the location was close to everything. The pool/bar/café area did not fail us, great food, drinks and the pool was very relaxing. In the evening it was a little bit busier due to everyone returning from the theme parks.
Genuine Expedia guest review
Reviews and ratings contained within this site are the subjective opinions of customers and suppliers; they do not represent or reflect Hotels.com's position. Neither Hotels.com nor the parties involved in providing review content shall be held liable for any damages of any sort resulting from use of these reviews