Hampshire Hotel - Amsterdam American
Leidsekade 97

,

Amsterdam

,

1017 PN

,

Netherlands

, ‏

‎800-491-6126

‎
Hotels.com reviews
TripAdvisor reviews
< Previous

Page 1 of 20

Next >
Wonderful!!!
Genuine Hotels.com guest review
"Great stay would recommend"
The staff at the Hampshire hotel were very accomadating and make sure they did everything they could for us to have the most enjoyable stay. They let us switch our room the second day we got their because the first room was a little noisy and did not have a pleasent view. We switched to a overlooking the canal and enjoyed watching every sunset from our room. The concierge was very helpful drawing a detailed map of places we wanted to go each day and reccomendations for museums and places to eat. Overall I would stay here again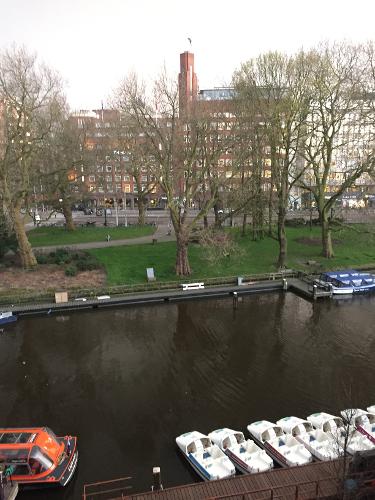 Genuine Hotels.com guest review
Excellent in every way with the most helpful staff ever experienced!
Genuine Hotels.com guest review
The staff and hotel overall were great. The TV in our room didn't work due to an issue with the remote. The staff fixed the remote, but the TV still didn't work. The room was fine, although a bit dated. There was sound of flushed water from the toilet in the room above us, and it was loud enough to wake you up if you weren't yet in a deep sleep. But other than those few things the hotel staff was top notch, the concierge that got our cab for us was really friendly and fun, and the location of the hotel is great.
Genuine Hotels.com guest review
"dated and dirty room, beautiful building"
Starting with the positives: very nice front desk staff, gorgeous restaurant and fun bar, great waitstaff in the restaurant and the bar (one bartender in particular recommended to us the best dinner we had in Amsterdam). The building itself is very beautiful. The room service late night food wasn't great but I really appreciate that the late night staff scrambled to make us extra goodies when we called. The cons: our room was SO GROSS. I know the hotel is undergoing renovation (and the parts that have been renovated are lovely) but I had no idea we would be placed in a dated, dirty room. All of the rooms shown on hotels.com are the new ones- maybe we just have bad luck and got the only remaining dingy room in the place? The wallpaper was scuffed, paint was chipped and the furniture looked like it had been (heavily) used to film an adult movie... white stains on the chair and curtains. Also, when the maids came the second day they left our dirty sheets on the bed rather than refreshing them- I thought that was unusual since there were mascara marks on the pillow that were very obvious. Slightly less bad but still unacceptable: the wifi cut in and out constantly (again, maybe this is due to our room location down a hallway?) and CANS OF SODA were 4.50 euros in the minibar- highway robbery!!! I would maybe try staying here again after they finish renovating but for now its a huge no!!!
Genuine Hotels.com guest review
"Great location and more"
Large room and very responsive staff. Great bar to hang out in at night.
Genuine Expedia guest review
Staff and location lovely. Beds very soft which is not a plus. Wi-Fi was free but reception was not good.
Genuine Hotels.com guest review
"Great place to explore Amsterdam"
I would recommend the hotel for anyone who wants to be right in the center off the action...close to everything ..boat tours, bus tours, great restaurants...rooms are large for Europe standards and were up to date.
Genuine Hotels.com guest review
Awesome!
Genuine Hotels.com guest review
"Best and Worst of Locations!"
We arrived at the Hotel American several hours before the scheduled check-in time and were pleased to find that our room was ready and waiting for us. The hotel was able to accommodate our request for a room with a balcony, which was also very nice. Wednesday and Thursday nights were great - comfortable bed, clean room, great sleep, etc. We were also happy to be so close to the nightlife of the Leidesplein... until the weekend came. Friday and Saturday nights were miserable due to the noise levels outside. Our room faced the canal (away from the Leidesplein), but the noise from the screaming revelers and the incessant horn-honking made it impossible to sleep - even with earplugs and our own share of alcohol in our systems. The horns and yelling didn't die down until well after the sun came up in the morning. It is clearly not the hotel's fault that people are loud (and that the Dutch can't keep their hands off their car horns), but I feel the need to let people know about this issue so they can choose their hotel accordingly. There are many, many hotels almost equally close to the nightlife, but that are on quiet streets so you can get some sleep when you're done with your own partying!
Genuine Expedia guest review
We had a 22 hour layover and booked this hotel for the night. Our room was not quite ready when we arrived, but they took our bags, gave us some water and made our dinner reservations so we could immediately go out and explore the city. Breakfast the next day was great and, even more important, the coffee was excellent. We selected this hotel because of a recommendation of a friend, and, like him, would recommend it without hesitation!
Genuine Hotels.com guest review
I was in room 607 and appreciated the ample size of the room, and the lovely sun porch/reading room with beautiful windows overlooking the canal
Genuine Hotels.com guest review
"A great location at a reasonable price."
Great hotel! Excellent location near restaurants, shopping, coffee shops, and museums. Even has a tourist canal cruise dock right in front of the main doors (cute!). Decent price, nice staff and a comfortable bed. The room was a little old, but it was clean and well maintained. Honestly, I've seen much worse in Europe and Asia. Caution: As with many hotels along the main roads in Amsterdam you will be hearing the tram rumble through late at night and early in the morning.
Genuine Hotels.com guest review
The hotel was very comfortable and in a really nice part of Amsterdam. My only complaint would be the lighting in the hotel room. There were no overhead lights, only the bedside lights and a light in the hallway to illuminate the room when you closed the window shades. Other than that I enjoyed my stay and would recommend this hotel
Genuine Hotels.com guest review
"Perfect location, elegant old world hotel"
Couples stay for 3 nights. Apparently, there are 2 populations of rooms, renovated and non-renovated. The renovated rooms were renovated in about 2005. Our renovated room was spacious and clean and comfortable. The location right on Leidesplein (Theatre District) was superb.
Genuine Hotels.com guest review
It was very good for the money
Genuine Hotels.com guest review
Great hotel,great location. Easy 5 euro bus ride from airport on bus 197 both ways. Bus stop in front of hotel. Walked easy to museums,starbucks,and to city center. no need for trams or buses. Room was large and bed very comfortable. Hotel staff very helpful. Would return here for next stay.
Genuine Hotels.com guest review
"Nice old hotel in great location"
Within 10 minute walk of museums, parks, and the south Jordan neighborhood. If you are booking a king room get two twins pushed together. This is much more comfortable and better for your back. We started out with a king matress but it was not firm enough for us. Staff was very nice and helpful. We enjoyed our stay and would stay again.
Genuine Expedia guest review
Excellent Hotel and location. Couldn't ask for better. Service was above and beyond as well. Highly recommend.
Genuine Hotels.com guest review
Pro = location. Con = thin walls - we could hear our neighbor's conversations. Overall, hotel was just ok...
Genuine Hotels.com guest review
The hotel is in a great location, convenient to the tram and canals, and the staff is professional and friendly. We stayed 3 nights, and I would definitely recommend this hotel.
Genuine Hotels.com guest review
Perfect location for exploring ALL of Amsterdam. This was our first time in Amsterdam but will always stay here upon return. Also had a very good restaurant w outdoor seating which was perfect for meeting up w friend's from other hotels.
Genuine Expedia guest review
Excellent overall. Was in a busy location....ok but a bit noisy.
Genuine Hotels.com guest review
Old school hotel. Mattresses in all rooms, soft water beds. Staff was nice and tried to resolve the problem. Our room, a " junior suite " was fairly comfortable, but needs refurbishment. All and all: nice staff, nice breakfast, relatively good value for money, in comparison to amsterdam hotels, but not internationally. Very good location. Good double glazed window, so quite.
Genuine Expedia guest review
There is no gym and lobby ! Very small bathroom and no shampoo or conditioner , old and smelly carpet , location is good but its kind of a place that only should sleep no hang out and TV doesn't work , its disappointing the condition of the hotel with kind of the money they charging .
Genuine Expedia guest review
"Unforgettable Hampshire Amsterdam American"
I love the Hampshire Hotel Amsterdam American. This was my second time there and I plan to stay there again. While I would love to offer constructive criticism, the truth is that I was completely satisfied with the performance of the hotel staff and with the size and condition of the room. They were friendly, professional, and efficient. Our first room did not have a view. We asked for a change and the desk staff accommodated us. No fuss, no problem. As for location, the hotel is "in" Leidseplein, in the beating heart of Amsterdam. If you like people--and we do--this is the place to be. We booked a canal cruise and bought tickets for the Rijks Museum and the Van Gogh Museum at a kiosk less than a block away from our hotel. It was a short pleasant walk to both. The choice of good restaurants was overwhelming. My fiancée and I are addicted to fine Indian cuisine, and she and I, separately and together, have tracked the finest curries across Asia, Europe, and North and South America. We discovered an Indian restaurant near the Hampshire that serves a lamb curry that's "to die for," arguably the best ever. Where else in Amsterdam can one find this combination of friendly Amsterdamers, street musicians, outstanding restaurants, world-class museums, all encircling this delightful hotel?
Genuine Hotels.com guest review
We booked this hotel using the VIP points we had accumulated after a long trip last year. Given the price of the hotel my wife and I were disappointed in the room. However, the location is fantastic and the staff are helpful and professional. Given the choice again I would stay somewhere cheaper though as Amsterdam is so compact that location is not as important as it is in other cities.
Genuine Expedia guest review
"Perfect location but..."
Hotel is in ideal location, however the room was showing signs of age. Great air conditioning but not very comfortable bed.
Genuine Hotels.com guest review
"Very nice hotel with a fantastic location!"
The hotel was fantastic, with a great classic feel and convenient location. I'd definitely recommend.
Genuine Expedia guest review
"Great Location, Comfortable Rooms!"
Ideally located and walking distance to attractions. Just a block away was the Bus station that can take you anywhere you need to go. Busses are EASY to use!! Our room was spacious with a big window to the park and canal. I will stay in this hotel over and over again!! Room 108.
Genuine Expedia guest review
"Terrific hotel with a super location!"
I can only say great things about this hotel! Large room, air-conditioned, very clean. The neighborhood is the best if you are interested in the museum district (even if you are not, the location is really close to everything). People watching from the outdoor bar/restaurant was great! Everyone was friendly and spoke perfect English. This will be out only place to stay in Amsterdam from now on.
Genuine Hotels.com guest review
"Very nice hotel with only a few flaws"
Nice rooms, nice location, good condition, but I can't quite give it 5 stars because of 2 problems: 1. Being an older hotel, the floors squeak loudly, which makes it hard to get up during the night without waking your spouse. 2. The A/C cycles off automatically after about 8 hours, which means that if you forget to turn it off/on before going to bed, you wake up sweating. Admittedly, this is probably only rarely a problem in Amsterdam.
Genuine Expedia guest review
"Great location and accommodation"
Great location, with easy walking distance to top museums and a wide variety of restaurants. A very vibrant area. The staff were especially accommodating. We had minor problems with the television set and air conditioner that we should have brought to the attention of the staff. Overall, the hotel was a great value for a late June stay.
Genuine Hotels.com guest review
"Good hotel in perfect location."
Perfect location for business and pleasure. Friendly employees. Nice comfortable room for an old building like this.
Genuine Hotels.com guest review
A bit pricey, but excellent service and location.
Genuine Hotels.com guest review
Our room was lovely. Very spacious with a lot of drawer space for clothes. Comfortable bed. Bathroom needs to be updated a bit. Location is perfect. The concierge was very helpful with restaurant reservations even before we arrived. Overall, great hotel.
Genuine Hotels.com guest review
"Good location and comfortable"
Located near the museums this is a Clean comfortable friendly hotel. Large room and bathroom, which is a feature we appreciate. The restaurant food was good. We ate there once snd enjoyed several of Amsterdam 's great restaurants on other nights Having the airport bus right on the corner was very convenient
Genuine Hotels.com guest review
The room was super. There was a water cooker as well as coffee, hot chocolate and tea bags.
Genuine Expedia guest review
"Great facility close to museums, canals, and place"
Everything was exceptional except the bed which was really lacking in quality for such a really great facility. Staff was outstanding. Concierge David was exceptional!
Genuine Expedia guest review
Clean, older hotel in extremely convenient Amsterdam neighborhood. Helpful, polite staff.
Genuine Hotels.com guest review
"Good location but noisy"
The hotel is located on a busy street and our room (#12) was dark, old and the noise from the street was loud. The bathroom is date and uncomfortable to move around with the toilet by the door, making it look weird and unpleasant to use. The tub was extremely high and hard to get in and out. The only positive aspect is the location (most trams stop by) plus the airport shuttle makes a stop in front of the hotel. Sadly, the unfriendly manager-on-duty was difficult and unaccommodating when we tried to worked out a solution to a mistake made to our reservation.
Genuine Expedia guest review
Fantastic location to restaurants, theater, museums, boat taxis. Great history and charm.
Genuine Expedia guest review
This hotel has a great location near the museums etc. Beyond that the hotel was disappointing. The staff was pleasant but not that helpful. The room was dark and the décor in need of an update. The toiletries were sparse and poor quality. Amenities advertised were not available particularly the in room safe. The hotel offered safety deposit boxes in lieu of the in room safe, which was very inconvenient. Unfortunately, we lost the key and the hotel took the opportunity to gouge us for the replacement at a penalty of $250 Euros. I don't think we were the only disappointed guests as there was a gentleman in the lobby requesting hot water for a shower!
Genuine Expedia guest review
"Convenient location and clean modern room."
An old world hotel with modern rooms, very good location near the tram and Rijksmuseum and Van Gogh museum. Very friendly and helpful staff. The American bar is a beautiful room for meals, coffee or late drinks. Highly recommended.
Genuine Hotels.com guest review
"Great visit to Amsterdam"
Perfect!!!
Genuine Hotels.com guest review
Beautiful, historic building in the perfect part of Amsterdam. Our room overlooked the canal. The only negative was hearing a few dunks walking home in the wee hours from the nearby bars.
Genuine Hotels.com guest review
The staff, particularly the concierges, were great, and the hotel was immaculate. Great location too. But there were a few glitches. Unfortunately, the elevator was down twice in a two-day stay; the safes in the rooms didn't work because of a "technology issue" and the printers in the business center didn't work either. Original room was dark with an old bathroom. After asking, we got a much better room overlooking the canal.
Genuine Hotels.com guest review
Enjoyed Amsterdam except for the weather Was very lucky to be still able to see the tulip fields and show.
Genuine Expedia guest review
We so enjoyed our visit/ great location. Walking distance to many restaurants/transportation/museum/on the canal etc. The staff is friendly and oh so helpful. Looking forward to our next visit.
Genuine Hotels.com guest review
Two days after an eight day river cruise. Wanted to see more of Amsterdam.
Genuine Hotels.com guest review
Reviews and ratings contained within this site are the subjective opinions of customers and suppliers; they do not represent or reflect Hotels.com's position. Neither Hotels.com nor the parties involved in providing review content shall be held liable for any damages of any sort resulting from use of these reviews
< Previous

Page 1 of 20

Next >