Couldn't find your deal here? Search all deals and promotions for your destination.
Print and complete this coupon to redeem your rebate.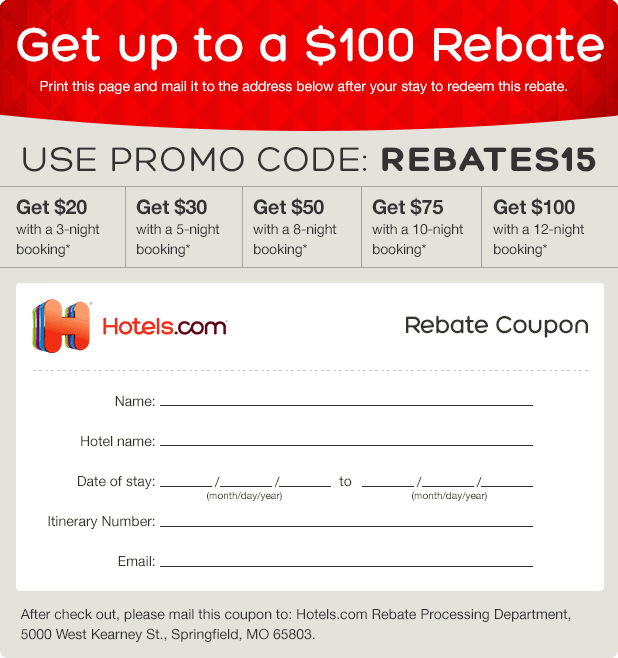 Rebate Rules
You must book and confirm online at Hotels.com on a participating Best Price Guarantee hotel to be eligible for offer. No call-ins or faxes accepted.
At the time of checkout, the online coupon REBATES1420, REBATES1430, REBATES1450, REBATES1475 or REBATES14100 must be used, and is only valid for hotel reservations booked and prepaid through Hotels.com.
Rebate amounts are as follows:

Stay 3+ nights & spend at least $130 with code REBATES1420 – receive $20 rebate;
Stay 5+ nights & spend at least $200 with code REBATES1430 – receive $30 rebate;
Stay 8+ nights & spend at least $325 with code REBATES1450 – receive $50 rebate;
Stay 10+ nights & spend at least $500 with code REBATES1475 – receive $75 rebate;
Stay 12+ nights & spend at least $650 with code REBATES14100 – receive $100 rebate.

Print out coupon from http://www.hotels.com/deals/rebate/, write in your name, hotel and date of stay and mail after your completed stay.
After completing your stay, please mail this coupon to: Hotels.com Rebate Processing Department, 5000 West Kearney St., Springfield, MO 65803.
Not valid with any other offer.
For efficient processing, rebates will be credited back to credit card used at booking within 8 weeks of receipt of this form.
Limit one rebate per booked room, per customer, per calendar year. This offer cannot be combined with other offers.
Rebate does not apply to:

Package bookings i.e. hotel + flight
Bookings made through Group Travel Services
Bookings paid for at the hotel
Bookings paid for in a foreign currency
Bookings at non-participating hotels
Bookings made prior to receipt of this coupon
Taxes, fees, or charges including, without limitation, extra guests, phone calls, calcellation fees, parking, or other charges. You must pay these charges when you make your booking, or directly at the hotel.

Coupon valid for reservations booked online January 1, 2014 through December 31, 2014 by 11:59PM CT for travel dates: January 1, 2014 through January 31, 2015.
Offer is valid for the first 75,000 bookings as long as you use it by the deadline above. You'll be able to check that it's still valid before completing a booking.
"Booking" means a completed stay booked on one calendar day.
Hotels.com reserves the right to change or withdraw this offer at any time.
Offer may be redeemed by a US or Canadian resident aged 18 years or older only on the US or Canadian Hotels.com websites and is void where prohibited by law.
Our interpretation of the rules of this offer is final.